3/8/2018
Members of the Joint Committee on European Integration spoke with the UN Assistant Secretary General for Political Affairs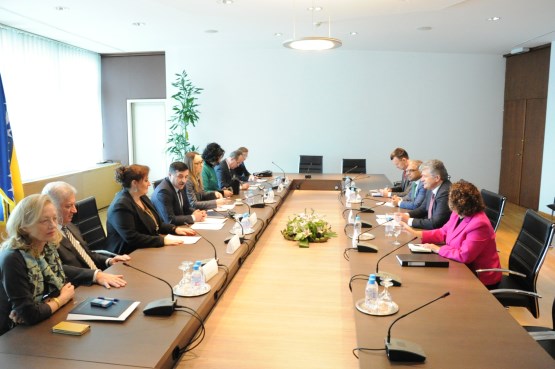 Chairman of the Joint Committee on European Integration of the Parliamentary Assembly of Bosnia and Herzegovina (PABiH), Nikola Lovrinović, his Deputy, Nermina Kapetanović, and members of the Joint Committee, Fehim Škaljić, Zdenka Džambas and Sifet Podžić, spoke today with the UN Assistant Secretary General for Political Affairs, Miroslav Jenča, who is in a several-day visit to our country.
During the meeting, attended by the UN Resident Coordinator and UNDP Resident Representative to BiH, Sezin Sinanoglu, members of the Joint Committee briefed the high-level guest about the current political situation in BiH ahead of the General Elections in October this year, the progress of BiH in the European integration process, as well as the role of the Joint Committee on European Integration and the PABiH in that process.
Emphasising the fact that BiH has made significant steps towards the EU membership over the past few years, members of the Joint Committee noted that the new European Commission's Strategy for the Western Balkans countries and the recent visit of the President of the European Commission, Jean-Claude Juncker, are an important encouragement for our country to continue with the implementation of reforms aimed at gaining candidate status and opening of process of negotiations for full EU membership.
Speaking about cooperation with the countries in the region, members of the Joint Committee noted that efforts were made to improve relations with neighbouring countries, through bilateral meetings at the highest levels, as well as through regional initiatives and the Berlin Process, both on a political and economic level and through the implementation of joint infrastructure and energy projects.
It was also said that politicians in BiH must find compromise solutions related to the amendments to the BiH Election Law, and that efforts must be made in the fight against corruption, the establishment of the rule of law and respect for human rights in accordance with the UN and other international conventions.
Encouraging BiH officials to resolve the outstanding issues, boost regional co-operation and accelerate the path to the EU, Assistant Secretary-General, Miroslav Jenča, noted that the UN will continue to actively participate in the peace-support mission and the reconciliation process in BiH, as well as in supporting the implementation of the UN 2030 Agenda for Sustainable Development, and the Sustainable Development Goals. (End)
PRESS
CONTACT

Public relations department