3/21/2023
The Speaker of the House of Representatives of the PABiH, Dr. Denis Zvizdić, met with the Ambassador of the Kingdom of Sweden to BiH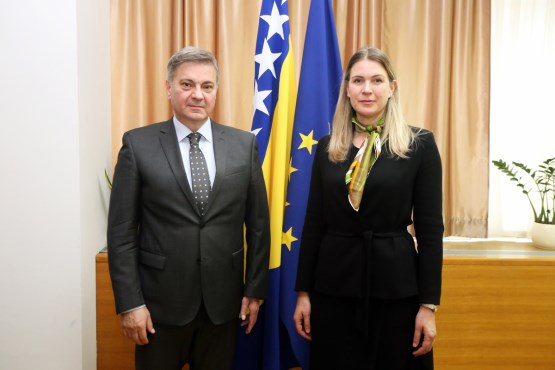 "The Speaker of the House of Representatives of the Parliamentary Assembly of Bosnia and Herzegovina, Dr. Denis Zvizdić, met today with the Ambassador of the Kingdom of Sweden to Bosnia and Herzegovina, Johanna Stormquist.
During the meeting, they discussed the strengthening of bilateral economic cooperation and the current economic and security situation, as well as the formation of the government after the October elections.
The Speaker Zvizdić expressed his gratitude for the help that Sweden has provided to BiH so far. He congratulated the Kingdom of Sweden on the successful and high-quality presidency of the Council of the European Union and thanked for the granting of candidate status to Bosnia and Herzegovina in December 2022.
The Speaker Zvizdić said that Euro-Atlantic integration remains a key foreign policy priority of Bosnia and Herzegovina.
The Speaker Zvizdić and the Ambassador Stormquist agreed that Bosnia and Herzegovina, on its further European path, should rapidly work on the realization of fourteen key priorities and on the adoption of specific legal regulations related to strengthening of the rule of law." (statement from the Cabinet of the Speaker of the House of Representatives, Dr. Denis Zvizdić)
PRESS
CONTACT

Public relations department