3/20/2023
Speaker of the House of Peoples of the PABiH, Dr. Nikola Špirić, met with the Ambassador of the Kingdom of Saudi Arabia in BiH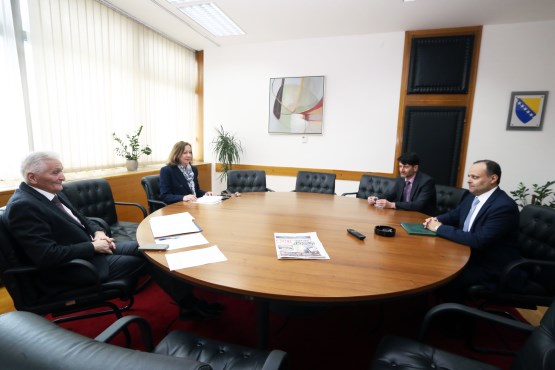 "The Speaker of the House of Peoples of the Parliamentary Assembly of Bosnia and Herzegovina, Dr. Nikola Špirić, met today with the Ambassador of the Kingdom of Saudi Arabia to Bosnia and Herzegovina, Osamah Alahmadi.
The interlocutors jointly assessed that bilateral relations, especially political ones, are good, but they also concluded that the economic relations leave a lot of room for improvement, including in the area of investments.
During the conversation, it was pointed out that Bosnia and Herzegovina has a surplus in trade with Saudi Arabia, but there are areas where greater trade could be achieved, such as agriculture and food industry, trade in consumer goods, development of eco and medical tourism, military industry and other areas.
The interlocutors agreed that it is necessary to continue improving parliamentary cooperation when the conditions are met.
The Ambassador Alahmadi wished Speaker Špirić success in his work in the new mandate period." (statement from the Cabinet of the Speaker of the House of Peoples, Dr. Nikola Špirić)
PRESS
CONTACT

Public relations department