10/23/2018
Delegation of the Parliamentary Assembly of BiH to the Parliamentary Assembly of Francophonie participates in the 31st session of the PAF for the region of Europe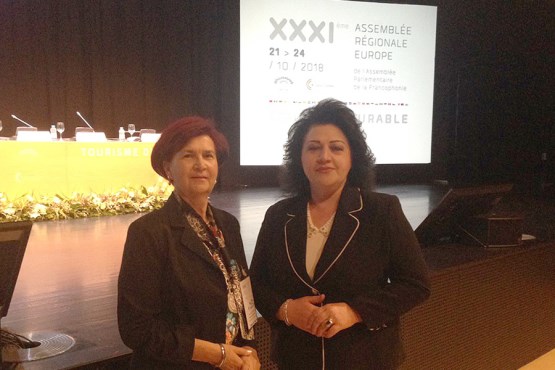 Members of the Delegation of the Parliamentary Assembly of Bosnia and Herzegovina (PABiH) to the Parliamentary Assembly of the Francophonie (PAF) Mensura Beganović and Milica Marković are taking part in the 31st session of the PAF for the Europe region, which will be held in Andorra.
The main topic of the 31st Session is sustainable tourism, which, as mentioned during the opening speeches, is very significant for Andorra because the highest revenue comes from tourism, especially the winter tourism. In this regard, Andorra has become an elite destination for winter tourism, with developed strategies for sustainable tourism that include economic, social and environmental aspects.
Within the framework of the Sustainable Tourism Session in the francophone-speaking countries, the participants exchanged views on this issue from the aspect of economic, ecological and sociocultural development. Some of the projects carried out by Andorra la Vella, Andorra, in connection with energy conservation and environmental protection, were also presented. Discussions included the energy potentials of Andorra and the ways in which this Principality provides energy stability, especially during the winter tourist season.
Members of the PAF delegations also visited the city office that designs urban development tailored to ecological standards, saw development models and familiarised themselves with the ways of developing urban development strategies and policies.
In the continuation of the 31st PAF session, the participants will also discuss education and training as an indication of sustainable development and sustainable tourism, as well as the challenges and trends in tourism in the European francophone - speaking area. (End)
PRESS
CONTACT

Public relations department