4/24/2018
Deputy Speaker of the House of Representatives of the Parliamentary Assembly of BiH Šefik Džaferović spoke with the non-resident Ambassador of the Kingdom of Morocco to Bosnia and Herzegovina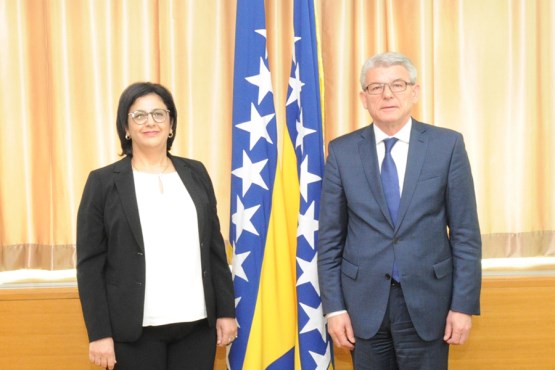 Deputy Speaker of the House of Representatives of the Parliamentary Assembly of Bosnia and Herzegovina, Šefik Džaferović, met today with the non-resident Ambassador of the Kingdom of Morocco to Bosnia and Herzegovina, Nour El Houda Marrakchi.
It was assessed during the meeting that the political, economic and cultural relations between BiH and Morocco are at a very high level and that they are not burdened by any open and unresolved issues. These relations are based on mutual respect and respect for the sovereignty and territorial integrity of the two countries, and at the same time, it was noted that it would be important to speed up the work on interstate agreements in order to further expand areas for ​​cooperation.
Economic cooperation between BiH and Morocco has a long tradition, however, it was emphasised today, it is certainly not at a satisfactory level and it is necessary to seize every opportunity to raise the scope of trade exchange to a much higher level.
Cooperation between the parliaments of Morocco and BiH was said to be of high quality both on a bilateral and multilateral level, but it should be improved both at the level of parliamentary groups of friendship and parliamentary working bodies and at the highest level. (End)
PRESS
CONTACT

Public relations department