3/6/2018
Members of the Collegium of the House of Representatives of the Parliamentary Assembly of BiH talked with the Deputy Prime Minister and the Minister of Foreign Affairs of Georgia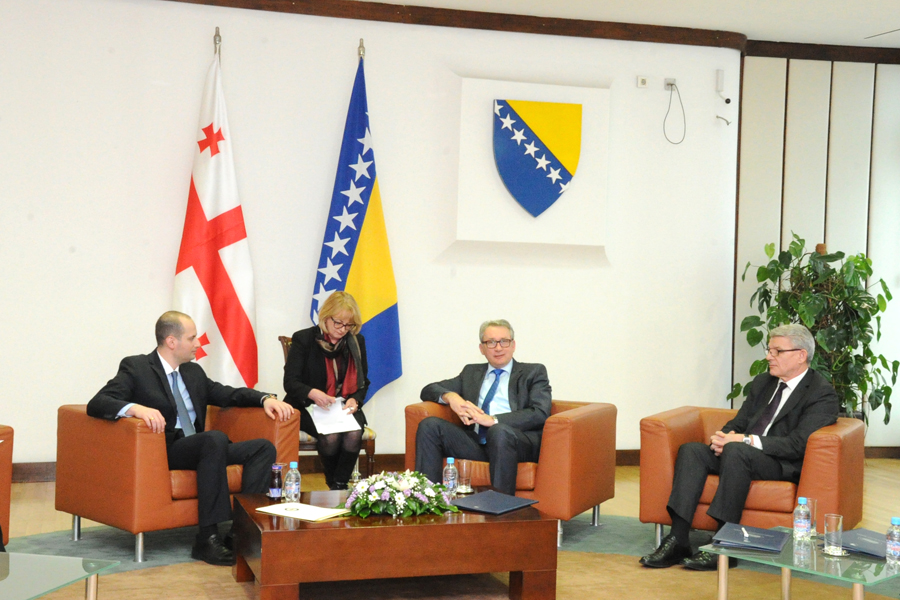 Members of the Collegium of the House of Representatives of the Parliamentary Assembly of Bosnia and Herzegovina, the Deputy Speakers Mladen Bosić and Šefik Džaferović, spoke today with the Deputy Prime Minister and Minister of Foreign Affairs of Georgia, Mikheil Janelidze, who is in the country in an official working visit.
During the discussion, interlocutors expressed satisfaction with the good political relations between BiH and Georgia and the fact that they are not burdened with mutually open issues. However, in terms of economic cooperation, it was noted that it is very weak and that additional efforts should be made to improve the trade exchange.
Special attention was given to the need to strengthen inter-parliamentary relations and the cooperation of umbrella legislative bodies, both on a bilateral level and in international institutions in which Bosnia and Herzegovina and Georgia work through parliamentary delegations. The interlocutors also expressed hope that the President of the Parliament of Georgia will visit our country in the near future, as well as that there will be more intensive contacts between the parliamentary working bodies of the two friendly countries.
During today's discussion, members of the Collegium of the House of Representatives voiced hope that Georgia would resolve its existing problems in the territory of ​​South Ossetia and Abkhazia peacefully and within the framework of international law, and that it will successfully continue its path towards Euro-Atlantic integration. (End)
PRESS
CONTACT

Public relations department